Duo Half - 2x15km
Share 30 km surrounded by pure beauty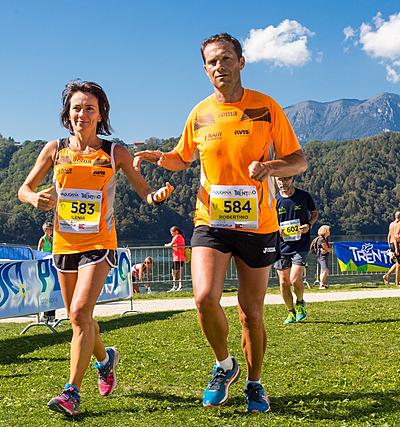 The Duo Half, the 2x15km relay road race, is becoming more and more popular, being an event dedicated to everyone. It was launched in 2012, with only few enrolled relay teams and with the 3x10km formula. Last year, more than 300 team members took part in the race and this year more than 500 athletes are expected at the starting line.
If you don't feel ready to face a 30-km race, or if you simply want to share a great emotion with your partners or friends, you can't miss the chance of participating in the Duo Half. The first part is gentler and is 16 km long, whereas the second part is more technical and is 14 km long. You will share the wonderful La 30 Trentina circular route, which goes through the picturesque landscape of Valsugana lakes and roads. The change area is located in Loc. Valcanover, next to Lake Caldonazzo along the fantastic cycle path in Valsugana.
At the end of the race, you will meet on the shores of Lake Levico in the wonderful Parco Segantini, where the arrival point is located. A great party will take place, with entertainment, dance, live Tyrolese music with the folk-rock band Die Schweinhaxen and the tasty pasta party.